Beef jerky may be a popular and convenient snack after workouts, for people in a hurry to have a quick bite or suitable for specific diets like low/no carb (keto or carnivore) and paleo diets. In this article, we reviewed whether beef jerky is good for you in the matter of health and we added an easy oven-made beef jerky recipe with an additional recipe done with the beef jerky dehydrator.
Beef jerky is formed from lean cuts of beef that are marinated with various sauces, spices, and other additives. It then undergoes various processing methods, like curing, smoking, and drying, before its packaged available.
Because jerky is taken into account a snack food, many of our followers wonder if it's a healthy or unhealthy option.
Nutrition and potential benefits
Generally speaking, beef jerky could be a healthy and nutritious snack.
A 30 grams-piece of beef jerky has approximately 10 grams of protein, according to USDA Food Data Central. The recommended dietary allowance of protein is 0.8 grams of protein per kilogram of body weight, according to Harvard Health. A dietary reference intake calculator can help you to determine how much protein you need every day.
It's also high in various minerals, including zinc and iron, which are important for several functions, including immune and energy support.
100 gr. (3.5 ounce) of beef jerky contains the following nutrients depending on Food Data Center:
| | | |
| --- | --- | --- |
| Name | Amount | Unit |
| Water | 23.36 | g |
| Energy | 410 | kcal |
| Energy | 1715 | kJ |
| Protein | 33.2 | g |
| Total lipid (fat) | 25.6 | g |
| Ash | 6.8 | g |
| Carbohydrate, by difference | 11 | g |
| Fiber, total dietary | 1.8 | g |
| Sugars, total including NLEA | 9 | g |
| Calcium, Ca | 20 | mg |
| Iron, Fe | 5.42 | mg |
| Magnesium, Mg | 51 | mg |
| Phosphorus, P | 407 | mg |
| Potassium, K | 597 | mg |
| Sodium, Na | 1785 | mg |
| Zinc, Zn | 8.11 | mg |
| Copper, Cu | 0.227 | mg |
| Manganese, Mn | 0.111 | mg |
| Selenium, Se | 10.7 | µg |
| Vitamin C, total ascorbic acid | 0 | mg |
| Thiamin | 0.154 | mg |
| Riboflavin | 0.142 | mg |
| Niacin | 1.732 | mg |
| Pantothenic acid | 0.163 | mg |
| Vitamin B-6 | 0.179 | mg |
| Folate, total | 134 | µg |
| Folic acid | 0 | µg |
| Folate, food | 134 | µg |
| Folate, DFE | 134 | µg |
| Choline, total | 109.1 | mg |
| Vitamin B-12 | 0.99 | µg |
Food Data Center
What's more, jerky features a long shelf life and is extremely portable, which makes it a good option for travel, backpacking, and other situations during which you've got limited access to food and wish a protein hit.
SUMMARY
Beef jerky may be a good source of protein and high in many vitamins and minerals, including zinc, iron, vitamin B12, phosphorus, and folate. It also contains a long shelf life and is portable, making it a good on-the-go option.
Downsides of beef jerky
Though jerky may be a nutritious snack, it should be consumed carefully.
It's very high in sodium, with a 1-ounce (28-gram) serving providing roughly 22% of your daily sodium allowance, which is about at 2,300 mg per day.
Excessive sodium intake may harm several aspects of your health, including heart health, high blood pressure levels, and stroke risk. That also makes it unsuitable for certain diets that restrict sodium intake.
Furthermore, jerky is extremely processed. Research have shown a connection between diets high in processed meats like beef jerky or biltong may lead to an increased risk of certain cancers in your gastrointestinal tract.
In addition, a recent study found that dried, cured meats like beef jerky could also be contaminated with toxic substances called mycotoxins, which are produced by fungi that grow on meat. Research has linked mycotoxins to cancer.
In short, though jerky could be a healthy snack, its best consumed moderately. Most of your diet should come from whole, unprocessed foods.
Is Beef Jerky Bad for You?
All brands are not the same. In our grocery store, there are two different brands of beef jerky, so I bought the one that is healthier and then I took a picture of the ingredients on the other one.
So, let me just run through the ingredients on each of these and let me see if you guys can figure out which one is healthier: I'm not going to tell you which one! Oh really!
First, we have beef jerky number one.
So, first ingredients, beef, water, sugar, salt, corn, syrup solids, modified soy, sauce, hydrolyzed, corn, dextran soy protein monosodium glutamate, which I'm pretty sure is MSG (monosodium glutamate); multiple dextran flavorings, hyphenated, soybean oil, silicon dioxide, sodium nitrates and there's a few other words that I can't even describe there.
And then we have type B. We have beef, sugar, water, beef stock, salt spices and flavorings smoke, flavor celery powder, vinegar and that's it. So, if you could be reading my eyes, you can probably tell which one I was reading but of course number one or a is definitely the one that I do not want in your diet.
Some of the key greens in this is that I'm terrible is corn syrup solvents monosodium glutamate, which I said, MSG hydrogenated soybean oil, which is just terrible and that we look at alternative here. That has what they call natural ingredients, which I don't really agree with them. But you know it still does have sugar in it, but it only has five grams of sugar per serving.
So, it's not the best natural whole snack food. When it's something on the go that you can have, that's still going to give you a good source of protein, low carbohydrates and it's low in bad fats as well, so very flexible on this one.
I do allow in your diet, beef jerky, but just make sure you look at the ingredients before you purchase it. So, you have my permission to added beef jerky the good kind into your diet as a quick snack, and then you can add some nuts. I added in like macadamia nuts, maybe filling meal so have your protein plus your satiated fats as well. There are no excuses why you can't eat on the go, but make better choices.
How to Make Beef Jerky in the Oven?
Home Made Beef Jerky Recipe
Today, I'm gonna, be showing you an easy way to make beef jerky in the oven and still get some smoky flavor.
Before we get to the actual cut of beef, we're, going to be using need to make the marinade that's, going to go on these beef jerky pieces. I'm, doing it in this large bowl because we're. Just gonna put the cut strips of meat in here once our marinade is ready and we've sliced up the beef.
Ingredients for about 6 (2-oz) portions Beef Jerky:
2 pounds thinly sliced beef top round
Beef Jerky Marinade:
1 teaspoon red pepper flakes
1 teaspoon garlic powder
1 teaspoon onion powder
1 generous tablespoon honey
3/4 cup Worcestershire sauce
3/4 cup soy sauce
2 teaspoons freshly ground black pepper
1 rounded tablespoon smoked paprika
1/4 teaspoon cayenne
Alternate Beef Jerky Marinade:
1/3 cup Apple Cider Vinegar
1/3 cup Soy Sauce
1/3 cup Worcestershire Sauce
1 TBSP Ground Black Pepper
1 TBSP Red Pepper Flakes
1 tsp Granulated Garlic
1 tsp Kosher Salt
1 tsp Liquid Smoke
Marinate for 3 hours or more.
Bake at 175 F. for 3-4 hours or until dry and leathery
So, we're, starting with a third of a cup of apple cider, vinegar. You could use red wine vinegar if you wanted to third of a cup of Worcestershire sauce third of a cup of soy, sauce, a tablespoon of cracked, black pepper, a tablespoon of red pepper, flakes a teaspoon of granulated, garlic, 1/2, a teaspoon of kosher salt, and for that smoke flavor, we're gonna be using some liquid smoke.
Today, liquid smoke comes in several different flavors. I'm gonna be using Mesquite. Today now I'm gonna be putting 1 teaspoon of liquid smoke in here. If you like, a smokier flavor, add more, but it is pretty powerful.
Now we're just going to give this a nice mix. All right, we're gonna set this aside and move on to our beef all right. So, what I'm working with today is some top round. This is one piece of it. I have several pieces of it, but I'm just going to show you this first piece that I'm going to cut on camera.
This has been in the refrigerator for about 30 minutes to firm up its gonna, make it a lot easier to slice as thin as you want. I, like my pieces, not super thin and I like to trim a lot of the fat off now I've, had a lot of comments on some of my beef jerky videos about leaving the fat on, especially for people who are used to eating Something called biltong, I've, never had biltong, but it looks really interesting.
I believe it's, a South African snack. It's used also in Australia, New Zealand, I've, had a lot of comments from those areas about it, and I do want to try making that. But this is a sort of a traditional beef jerky, and this cut is top round which a lot of times you'll, see sold as London broil.
So, I've removed a lot of the fat here and I'm. Just gonna start slicing it now. The choice is across the grain, with the grain across the grain will give you a tender bite when you pull on it. At with the grain, you're gonna have a little bit more of a pull.
It's up to you. I'm, just actually gonna slice this straight across here, trying to keep it as squared up as possible. We're, just gonna start at the end here. The first cut is always a little difficult, especially when it's been in the freezer, and you can see.
We have this extra little piece here that I'm, just going to go ahead and cut off here and we'll, just cut that separately with the other pieces. So now I have my piece squared up here and I'm. Just gonna go slowly here.
This is a little too thin for the way I like it. So, they're gonna be a little thicker pieces and know the knife is not dull. This is almost frozen as soon as you get into the meat you feel the resistance released.
That outer part is almost flash-frozen. I'm, going for anywhere from an eighth of an inch to a quarter-inch thick on these pieces. I'm gonna go ahead and finish slicing this up and the rest of it. I'll bring you back when we're ready to marinate it all right.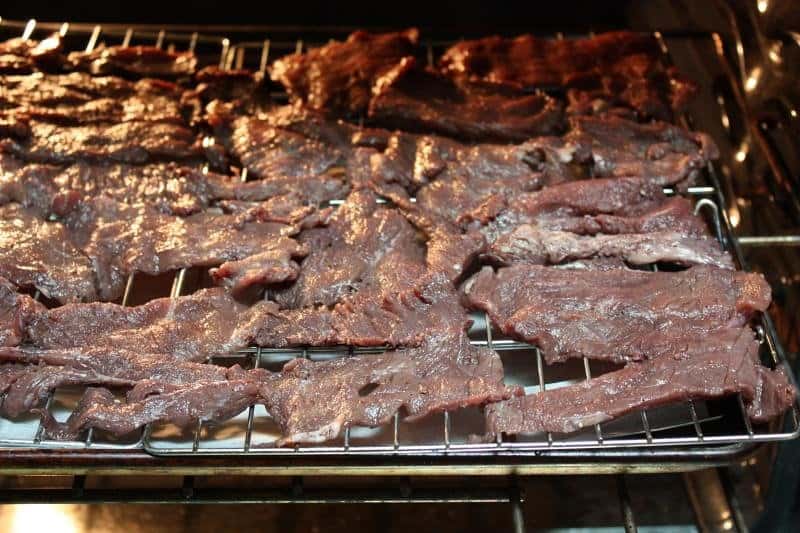 So, what I have here is just a little under 4 pounds of sliced top round. Now a couple pieces. I did leave some fat in. I know a lot of people in comments said: leave the fat. I can leave the fat because I'm, not preserving this.
This is going to be eaten within a couple three days and I store it in the refrigerator. If I was taking this to a level of dryness where I wanted to preserve it, where it can sit out just in a jar on the counter or something like that, fat is the first thing that will go rancid.
It will turn bad so that's, why you try and remove as much fat as you can, when you're gonna be making this for preservation in the American jerky style. So now we're, just gonna get this in the marinade got our bowl of marinade.
Here I'm, just gonna start putting the pieces in we're gonna give them a good mix with our hands. If you want to put them in a zip lock bag, you can that's, really easy to marinade them put them in the refrigerator, and I'm just gonna work, the marinade over these pieces.
I want to get everybody to have a good coating here. The beef is still very, very cold from being in the freezer, and this is going to go in the refrigerator for an hour. I said this was gonna, be a short process and I wasn't kidding now.
If you really wanted to give this a lot more flavor leave it overnight, leave it six or eight hours, but you're gonna get a lot of flavor in here just in the hour. Alright, this is gonna go in the refrigerator.
I 'll, see you in about an hour all right, so our beef jerky has been marinating for an hour. That's all and, as I said before, you can marinate it much longer, but this is sort of the quick and easy version of beef jerky made in the oven.
So here are several pieces of it. There are a lot more still in the bowl, but I just want to show you what you need to do here, which is dry it off a little bit just want to take off some of that excess moisture, not all of it.
The rest is going to dry out in the oven and just turn it over. You get some of the excess off the other side. You can see. We still have a lot of those nice red, pepper, flakes and cracked black pepper on the surface.
Alright, I'm gonna go ahead and finish drying off the rest of this, and I'll, bring you back when we're ready to get it on the trays. Alright, our top round slices are dried off not completely there's.
Gonna be a little bit of moisture on them. That's. Fine, we just wanted to get the excess off. So, what I'm gonna do now is transfer them to these baking racks that are resting in a tray and the tray is there just to catch drippings? If you don't have something like this: you could actually do it straight on the oven.
Rack just make sure it's, clean, clean those racks first and then on the very bottom rack at the base of your oven line, that with foil or a large pan to catch any drippings. You can also do it straight on a baking sheet.
Like the one that's under here, just in a couple hours into this, you're gonna want to turn them over. This way, you don't need to turn them because there's. Gonna be air circulating around all sides, so I'm, just gonna start, placing my strips on here and any little ones just kind of tuck to the edge there.
But really you want to try and keep them from overlapping if they touch a little bit, that's. Fine! They're gonna shrink up quite a bit: move on to our next tray. I may have to do some creative cramming on this one, with the amount left we'll have to see or could just save the rest freeze.
It thought out make jerky later again if some of them touch that's, not a problem. They're gonna shrink and open up space here got a little bit left over that's. Okay, I'm gonna save that I'll, make a batch of jerky a little bit later.
Today, let's. Get these in the oven. All right. Our oven is preheating to 160 degrees. These are probably gonna take somewhere between 3-4 hours, but we'll check in about an hour all right.
It's been an hour. Let's. Have a look at our beef jerky. Alright, let's. See how we're, looking here now, one difference between this and using the smoker is. You would have had a darker color already, because you'd, be having smoke rolling over this, but it is looking good here starting to get shrinkage.
The first a little bit on the edges, it's, still gonna have at least two more hours to go. There's like I said this is probably gonna, be a three- or four-hour process, but it smells great right now, so we're, going to close it up.
Let it keep going all right. We are three hours in. Let's, see how we're. Looking, oh look at that. There we go. We are getting that real jerky sort of color. Here, look at that and see that and see that still very, very, very flexible.
We want to get that dried out more, so I'm guessing another hour. It's, probably gonna take us to where I would want this jerky. You may want it drier and you can take it longer. It's completely edible right now.
In fact, if you notice on the bottom shelf there's, a missing piece, I took a taste. It's really good. So, all right, this is going to go back in another hour. We'll check it and we'll, probably be pretty close to how I like it to be done all right.
We're at just about four and a half hours. I let it run just a little bit longer when I checked it for just a little bit less than I wanted. So, let's, see how we're doing now. Oh, look at that nice color! This is what I'm.
Looking for right here, let's, see. Let me grab this piece back here. Look at that! This is what I'm. Looking for right here, I like just that little bit of flex in there, if you're doing it out on the smoker, you're, going to get a lot more airflow.
You're, going to get a little bit more of a drying action in this short amount of time, but in the oven, you get a little less airflow. Unless you're running convection, I didn't, run convection in my oven today, but that is just what I'm.
Looking for so let's, get these out of here and have a taste. And here we go beef jerky a nice little assortment on the cutting board got to tell you this just smells amazing. I told you I cheated and took a little taste earlier it just like I, I love beef jerky.
I've loved it. Since I was a kid, it was always a treat to me when my parents would buy beef jerky in the store, and now I can make it myself. Let's. Have a taste nice. This piece right here. This one has some fat in it.
I can tell just from right on the backside here. So normally I wouldn't. Do this with fat? There were a few pieces that I decided to let go through with the fat. I know it's, going to taste good, but let's see if you can't use a smoker outside, and you want that smoke flavor using liquid smoke is fine.
If you have no other option – and you want that smoke, flavor don't hesitate to use it don't. Let anyone tell you, you can't use liquid smoke. If you want that flavor in beef jerky or in anything a teaspoon of it in this marinade gives perfect smoke flavor.
The total time in the oven was about four and a half hours at about a hundred and sixty degrees. Your oven may be different. Ovens can range by 30 degrees member. They don't just stay at a temperature, they go up and then they turn off and they come and when they're below it, then they go back up.
So you're, not going to have a stable 160 degrees all the time that's. Okay, the key is giving it that sort of low and slow time here now. This is only a four and a half hour drying process. If you want this dryer, if that's, the way you like your jerky, you're, probably going to go six or seven hours.
I doubt you're gonna have to go much longer than that. If you use a thinner cut, it's gonna dry, much quicker. I, like mine, cut about eighth to a quarter inch, and so I like that little bit of Bend in it, especially when I'm, doing it inside in the oven, and it just is amazing.
And if you're planning to make beef jerky like I am NOT for preserving it, you don't have to use top round or I of round you can use sirloin. You can use a tri-tip. Try some different meats see what works well for you.
The key is, if you're, making it without the idea of preserving it. You're gonna want to store it in the refrigerator if it makes it that long. So, if you have friends coming over, you have a party and you want to give them a real treat.
Go ahead. Use the oven, get some good beef. Some liquid smoke, a great marinade, make some beef jerky. It will be the hit of the party, and it just is not going to last very long.
How to make Beef Jerky with a Dehydrator?
Tool Suggestions for Beef Jerky Recipes
Jerky Gun: SIGVAL Jerky Gun, 1 Pound Capacity Jerky Maker, Aluminum Barrel with Stainless Steel Nozzles & Bag
Another simple Beef Jerky Recipe for Your Oven:
FAQ for Beef Jerky:
Should I Eat Beef Jerky?
Though jerky is healthy, avoid eating an excessive amount of it, as it's high in sodium and will include the identical health risks that are linked to eating processed meats.
How bad is beef jerky for you?
Though jerky could be a nutritious snack, it should be consumed carefully. it's totally high in sodium, with a 1-ounce (28-gram) serving to supply roughly 22% of your daily sodium allowance, which is about at 2,300 mg per day.
How much beef jerky are you able to eat a day?
The American Heart Association recommends not consuming over 2,300 mg of sodium per day, but ideally, people would limit their intake to around 1,500 mg. counting on the brand and flavor, a 1-ounce serving of jerky has about 300-400 mg of sodium. Otherwise, the ingredients should be simple.
Can you lose weight eating beef jerky?
Beef jerky is high in protein. Consuming protein is very important for weight loss because it digests slower than carbohydrates, so you'll feel full for a extended amount of your time. Another bonus for jerky is that it doesn't produce insulin, which may be a hormone that signals the body to store fat.
Is beef jerky bad for high blood pressure?
The main culprit when it involves skyrocketing pressure level levels is sodium, found in additional foods than you would possibly expect. Steer away from or limit these high-sodium foods in your hypertension diet: Dried, preserved, or salted meats, like bacon, ham, beef jerky, and pepperoni.
Can eating too much beef jerky make you constipated?
A juicy steak or burger once in a very while is often a healthy addition to your diet, but eating red meat daily can contribute to constipation. beef has no fiber. Fiber is required because it adds bulk to stool so it moves through your system smoothly.