I wanted to share one of my discoveries on my daily healthy-living searches for my followers in these pandemic restricted days.
To make it short, I love living with my pets. Like most of us, I also think that our pets are our family members. We live together with them, take care of each other, and we only want what's best for them. We seek for the best food, treats as we choose as if for ourselves and, more importantly, look for the best healthcare options when they need it. It's always a concern for me to make the right choices for my loved ones as it is with my patients.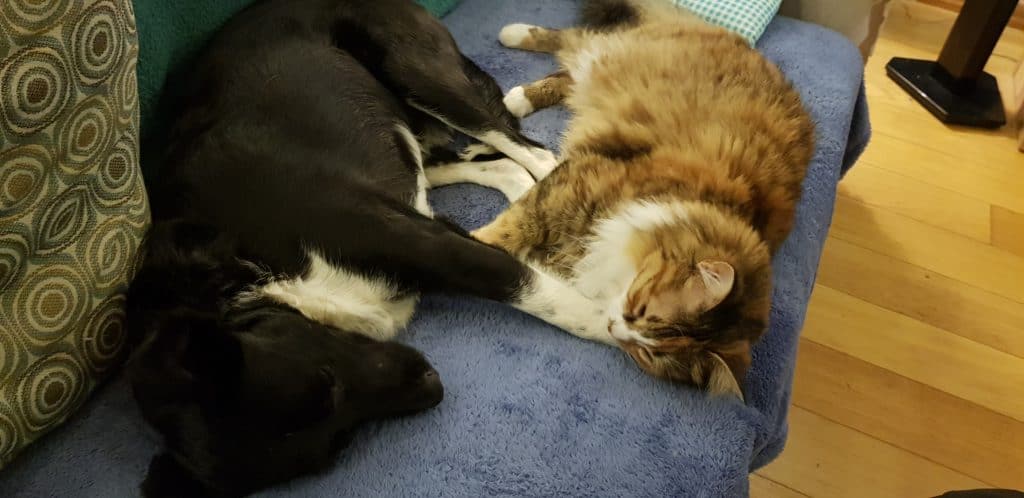 Within my professional years as a cardiovascular surgeon, I've always struggled to find a way to treat my patients without any insurance coverage. I was always thinking to have a system to be able to create a community-based health coverage especially for people who are not backed by their governmental health systems.
As every pet owner, we know that a visit to the vet isn't something to be taken softly. Because you're not only handling a health concern for your loved pet, but the bill you'll be facing at the end of your visit is perhaps going to be way more than you hope, or even be able to pay. Vet costs still increase and plenty of pet owners are then faced with difficult decisions about what treatments they will afford, and what they're going to have to prefer.
I came across a young initiative Eusoh, founded by Dr. Allen Kamrava, a surgeon, who wanted to apply the concept of community sharing to the pet insurance industry. "The constant struggles with health insurance companies as a practitioner planted the seed," says Allen, the founder of what led him to create Eusoh.
Unhappy with the way in which pet insurance companies were profiting from denying pet owners' claims, he created a new model that changed the thinking from traditional pet insurance and let members see exactly where their dollars were going every month.
It's important to remember that the main purpose of pet insurance is meant to help lower the burden of the more expensive and less common health conditions, infections and diseases, like fracturing a limb, an accident, poisoning, or getting cancer.
What Is Eusoh?
If we want to make it easy and short, Eusoh is NOT a pet health insurance company – instead, it is a community peer-to-peer health sharing plan that reimburses you for your loved pet's medical, wellness, illness, and routine care expenses. Eusoh was founded to not only offer the most effective community coverage money can buy but also revolutionize the healthcare industry by eliminating the necessity for expensive and unreliable insurance programs. On average, Eusoh members have saved ~50% compared to traditional insurance policies.
How much pet insurance cost compared with Eusoh?
After a short search and obtaining quotes from 10 of the top pet insurance companies, we found that the average monthly premiums can be over $100 (averaging $80-120) depending on your pet's age, species, as well as where you live and the coverage plan you choose affecting your insurance rates. The best side of Eusoh is that the community covers most of your pet's medical expenses without having to pay over $65.00 a month.
We're mentioning of Eusoh community health sharing plan, but so, what does that mean?
Eusoh community is operated by a health sharing system. This suggests that the medical costs are shared across all users within the Eusoh community. Your money goes on to other pet parents in need by the system – and it goes to you whenever you've got an expense that has to be reimbursed.
Each Eusoh member pays a mean of $40 to $45 monthly, counting on the whole amount members claimed for reimbursement of that month. Any unused contributions are fully rolled over and credited back to the community, effectively decreasing next month's payments. Unlike pet insurance premiums, Eusoh only helps you to pay money for what's needed.
EUSOH in 30 seconds video :
In a summary, Eusoh is NOT a pet health insurance company – instead, it is the best healthcare plan alternative for your pets in my opinion.
Why Is Eusoh Better Than Pet Insurance?
Complete Accident, Illness, And Wellness Plan: Eusoh healthcare coverage includes everything you could get reimbursed for with pet health insurance, except with Eusoh getting these at a much lower price.
No Premiums: Unlike differing premiums that pet parents need to pay for pet insurance, all Eusoh members contribute the same amount never overpaying for care, nor having to upgrade for better healthcare.
Easy & Instant Reimbursement with Easy 4 Steps: Reimbursing 80% of your pet's medical expenses can be summarized into four steps (An important difference with Eusoh having an $8500 annual max reimbursement compared with most of the other pet insurances offering a max of $5000):
Go to your vet →You pay for services→Submit your receipt to Eusoh → And, then get reimbursed within 30 days!
And also, the good news is that you don't have to argue with your insurance company about how much they should cover for your hard-earned money back for the medical bills.
Transparency, as it is a must: Before any procedure, you will know if you will reimburse the expenses and how much. There are no hidden costs, and you will never be kept in the dark about financial charges. Anything you want to know about the fees and reimbursements will all be in black and white. If you have questions regarding a specific medication or procedure, you can always contact their support team.
Benefits of Eusoh for Your Pet Friends
Here's what you will get reimbursed for when you join Eusoh:
Annual Checkups
Most traditional pet insurance companies refuse to fund routine veterinary visits. Eusoh acknowledges that annual checkups are necessary for your pet's healthcare, so yearly visits to the vet are covered!
Wellness Care
Preventative measures help reduce your pet's healthcare costs in the long run. When pets are well taken care of, medical expenses for the community are also reduced. With Eusoh health sharing plan, pet owners can reimburse wellness care,saving hundreds in potential medical costs. Please note that breeding, grooming, supplements, and food are NOT covered by the reimbursements.
Injuries & Illnesses
Falling ill some times each year and getting injured now and then is just as normal for pets as if it is for us. When your pet accidentally gets an injury or gets sick, you don't have to worry whether insurance will cover you for it. You'll have Eusoh and also the community behind you.
Hereditary Conditions
Common genetic disorders in dogs and cats include hip dysplasia, urinary bladder stones, heart disease, bone cancer, deafness, and even epilepsy. Eusoh aims to enhance your pet's quality of life amidst these hereditary conditions, that the community also covers these expenses. Should your pet need it, health coverage for cancer is additionally included.
Prescribed Medications
Supplements aside, any medication prescribed by your veterinarian is roofed by the Eusoh community. These include antibiotics, pain medication, epilepsy drugs, and even chemotherapy drugs.
Surgeries
Should a time come when your pet needs surgery, Eusoh's community coverage will reimburse your expenses. However, spaying & neutering are not part of the covered procedures.
Free Telehealth Services
Eusoh now offers complimentary telehealth services for our members through our partnership with FirstVet! This offer ends March 30th, so join the community to have this priority!
How does Eusoh's new model provide better reimbursements, unlike pet insurance companies?
PROS
Quick & Easy sign up
Covers More Types of Treatments Than Standard Pet Insurance
No Monthly Premiums & Fees are Not Risk-Based
Low Monthly Cost
Low Annual Out-of-Pocket
Create or Join a Pet Loving Community
Free to Use Any Vet You Prefer
Paid for Referral of Friends
CONS
Quality of Coverage Dependent on Group Members
No coverage for pre-existing conditions as in pet insurance
Must Wait 30 Days Before Filing a Claim
Initial Out of Pocket May Be Higher (In my experience, paying cash and getting reimbursed is way easier & cheaper than going through insurance.)
Embrace Pet Insurance vs Eusoh review
On this point, I'd like to make a comparison for Eusoh vs Embrace Pet Insurance which is asked a lot.
Eusoh has the foremost comprehensive pet health plan
Eusoh pet health plan offers accident, illness, and wellness coverage for pets of all ages and breeds. Embrace Pet Insurance doesn't offer an illness plan to pets that are 15 years and older. They're only eligible to receive accident-only coverage. This may be a serious problem for pet owners who plan to enroll their pets at a later time.
Eusoh's monthly price is capped at $65
It's simple on Eusoh. One universal price for dogs and cats which will never be over $65 a month! Embrace Pet Insurance bases its price on the breed and age of your pet. Larger breeds and older pets may have pricier premiums. The price may be over $600 a month and will increase per annum.
Eusoh has an $8500 annual max reimbursement
Eusoh members are entitled to $8500 a year for shareable expenses. This annual maximum is on the market for pets of all ages and breeds. Embrace only offers $5000 as its annual reimbursement limit for pets that are 15 years and over. This amount is offered irrespective of how long your pet has been with the service and if they're in good health.
Eusoh has no enrollment fees
Upon joining the community, Eusoh only charges a $17 subscription fee plus a $48 initial refundable deposit. The $48 deposit actually goes to the cost of care. It's not an arbitrary cost added to a monthly fee. Embrace charges an enrollment fee of $25.
Wellness is included in Eusoh's health plan
The Eusoh community covers routine and wellness care together with annual exams at no additional cost. It's all a part of the plan together with accident and illness coverage. On Embrace, wellness coverage comes at another price.
Eusoh has transparent pricing
All coverage and reimbursement for procedures are totally transparent. You'll know before any procedure, if you'll be able to get reimbursed and how much it'll be. Eusoh encompasses a price guide for veterinary services and medications.
Eusoh has few limits on specific expenses
Eusoh members are entitled to $8500 for shareable expenses, none of which get restrictive reimbursement. Eusoh has only a few limits for reimbursement on any specialized service or procedure. Embrace has an annual reimbursement limit of $1000 for dental expenses.
Eusoh's submission process is straightforward
All Eusoh members must do is upload their receipt and invoice for reimbursement. On Embrace, apart from claims and forms, more additional documentation could also be requested from the pet owner, making the reimbursement process even more delayed.
There are not any waiting periods for specific conditions on Eusoh
On Eusoh, there's a customary 30-day waiting period before members can submit expenses. Following the waiting period, members can submit expenses for any sharable expense. On Embrace, orthopedic issues like cruciate ligament injuries, hip dysplasia, etc., are covered after a 6-month waiting period.
Eusoh has an inexpensive out of pocket and monthly price
Eusoh's annual out of pocket is $250 and, as previously mentioned, Eusoh's monthly fee will never go beyond $65, irrespective of a pet's age. Eusoh members have averaged $40-$45 a month, which includes a subscription!
How Do You Join Eusoh's Pet Community Health Sharing Plan?
As the founder, Alan states that Eusoh members are saving 80% vs. traditional pet insurance.
As one of your family, your pet also deserves a happy, healthy, and carefree life. If you're ready to protect your loved pet by getting the best alternative to pet insurance, you can do so by clicking here.
For our readers patient enough reading our lengthy Eusoh review, we wanted to contribute with the coupons listed below:
With our special Promo code 'HEAT' you earn 2 free months of subscription ($34 value)
With a new coupon code 'LUCKY' your discount is $4 off the monthly subscription price. (Subscription savings: $48)
You can save big on your loved ones' medical costs. Get reimbursed for your pet's illness, injury, and wellness expenses!
As Dr. Alan states, I also believe that we are all tribal by nature and communities should remove frictional barriers to the association. And we may start this mission with our loved pets…
FAQ
Do I still need pet insurance if I've got Eusoh?
Nope! Eusoh completely eliminates the necessity for pet insurance. You'll get more complete coverage through our community for up to 65% less than traditional insurance.
What happens if everyone's pet needs treatment at the identical time?
This is one of all the foremost common questions we get: will there be enough money to reimburse EVERYONE?
The simple answer is… yes. after we founded Eusoh, we ran 100,000 different scenarios. Turns out… with the number of members we currently have, it's impossible to break the system.
What if I'm not pleased with Eusoh?
We created Eusoh to make you fully happy. If for any reason (or for no reason at all) you're not thrilled with the service and coverage you get with Eusoh…simply email us at [email protected] for a quick and painless refund.
You're protected by our 30-day, 100% money-back guarantee.
*Disclosure- I am not an employee of Eusoh. All opinions are genuine, based on my knowledge of the company, and have not been influenced by promotional items. I may receive compensation when you sign up. *